What Do I Need to Be a Successful Virtual Assistant?
(This page may contain affiliate links and we may earn fees from qualifying purchases at no additional cost to you. See our Disclosure for more info.)
Becoming a virtual assistant is an increasingly popular way to have a freelance, home-based business.
You get to set your hours, work remotely, and choose who you work with.
But what does it really take to be a successful virtual assistant?
We've got all the details here.
What Does a Virtual Assistant Do?
Before we get into what's required to make it as a virtual assistant, let's define what a VA does.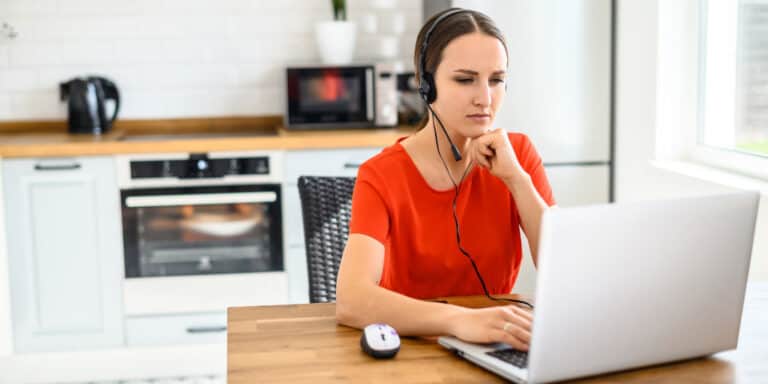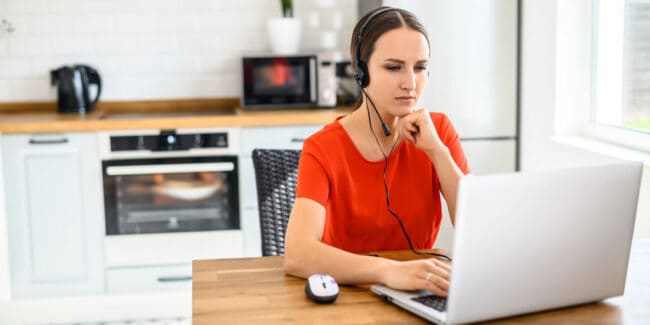 A virtual assistant, or VA, remotely completes a variety of tasks to support other entrepreneurs.
Their job is to shorten their clients' to-do lists so they can focus on growing their business.
Great VAs enjoy helping others and contributing to their client's success.
While VA work is often administrative in nature, it can encompass other business functions, like marketing, graphic design, content creation, accounting, and customer service.
Virtual Assistant Success Factors
Now that we've given you a brief overview of what a virtual assistant does let's delve into what you need to be successful at this endeavor:
Desire
To be successful at anything, you must want to do it. This is particularly true when you're self-employed and need to be self-motivated.
You should have a driving force that compels you to be a VA. It will keep you focused and committed during tough times. It will also serve as a compass, reminding you of why you became a VA in the first place.
Community
No business operates in isolation. To be a successful virtual assistant, you should continuously build a community of folks you can help and that can help you too.
You can form and nurture relationships with prospective clients, service providers, mentors, coaches, and other VAs through networking.
The more people you know, the more you can collaborate. Everyone involved and their businesses will be richer for it!
Soft Skills
As a virtual assistant, you'll be working closely with your clients and juggling many different, sometimes competing, demands.
That means you'll need strong communication skills and a myriad of soft skills to manage the working relationship and workload effectively.
Those soft skills include (but aren't limited to):
When your soft skills are on point, you'll enjoy better quality, longer-lasting relationships with clients.
You'll also get more done with less time, leaving you with the required bandwidth to grow your business. That's a recipe for success!
Hard Skills
Soft skills determine how you do the work. But hard skills determine what jobs you can do.
Virtual assistant hard skills are all over the map, depending on the services you offer, but here are some of the more common ones:
Related Reading: What Does it Take to Be a Successful Freelance Writer?
Virtual assistants who have specialized skills can often command higher rates. It pays to keep learning new things. And guess what?
All of the skills that you use to help your clients can be applied to grow your own VA business!
How much money can a VA expect to earn?
From the little research that exists, the average North American virtual assistant earns between $25-40 per hour.
This is going to depend on your experience, skill-set, and areas of expertise. I.e. The more specialized your services and the more experience you have, the more you can charge.
I've seen people in our community charge as little as $15 per hour and others earn more than $100 per hour (including myself). Ultimately it comes down to being really good at what you do and finding clients that value what you're offering them.
How quickly you start earning honestly depends on how quickly (and frequently) you start putting yourself out there for hire. Click here for some real-life examples of VAs in our community that have built successful businesses.
In my opinion, contracting and working virtually is the way of the future.👊
People (clients and virtual assistants alike) crave increased flexibility. And what better way to obtain it than to build a business and/or team virtually?
Clients (typically small business owners, entrepreneurs, etc.) aren't always looking to manage people or take on full-time help. Instead, they'd like to contract out for specific services they need help with. It makes it a win/win for both parties (including a HUGE savings in overhead!)
Gina Horkey, HorkeyHandbook
Personality Traits and Mindset of Successful VAs
So, you've got all the skills, but do you have the right mix of personality traits and the right mindset to be a successful virtual assistant?
Although not an exhaustive list, here are the main things you need:
Business Acumen
As a VA, you're a small business owner. That means you need to have (or develop) strong business acumen.
It's the knowledge that enables you to create strategic plans, market your services, manage your company's finances, and operate your enterprise.
Without it, you'll make blind decisions, which can delay or prevent your success.
Part of your business acumen includes knowing which business structure to choose (think sole proprietorship vs. LLC vs. corporation). Of course, as your business progresses, your ideal business structure may shift.
Even though you should have a good understanding of the business world, it pays to have an accountant or other professional on speed dial for guidance.
Financial Plan
You need a financial plan to thrive as a VA. That plan will help you make sound money-related choices — for both you and your virtual assistant business.
It should include things like:
You need to know your numbers. Otherwise, you can't manage your finances effectively, which can impede your progress.
Please note: Your financial plan is a living document that should be updated as your business evolves and your circumstances change.
Related Reading: 10 Finance Tips for Small Business
Office Needs
While we don't recommend spending a lot of money on your business initially, you'll likely need to spend some to get up and running as an independent contractor to other entrepreneurs and small businesses.
Here are things a professional VA may require. Some are a must to land your first client, while others may come as your business grows:
Becoming a Successful VA
Being a virtual assistant can be a rewarding, flexible way to do business and earn income. You can jump into your own VA business full or part-time, or keep it as a side gig in addition to your full-time job.
It requires desire, dedication, hard work, a plethora of skills, the right mentality, and willingness to go the extra mile.
But it's a business you can run from home or just about anywhere you have secure internet access.
Plus, you can start with the skills and knowledge you already possess and then expand your skill set to grow your business further.
Next: Side Hustles That Worked For Me (and those that didn't)