What to Consider Before Leaving Your Current Job
(This page may contain affiliate links and we may earn fees from qualifying purchases at no additional cost to you. See our Disclosure for more info.)
Are you thinking about quitting your job? You're not alone.
Most people feel like leaving their job sometimes. Because even in the ideal position, bad workdays happen.
But if you're like 73% of workers today, you might consider leaving your current employer searching for something better.
Americans have recently been quitting jobs at a high rate – a trend called the Great Resignation.
They're after higher pay, more flexibility, and better growth opportunities.
But before you turn in your letter of resignation, it's wise to think it over and have a plan! So read on for things to consider before quitting your job.
Questions to as yourself before leaving your current employer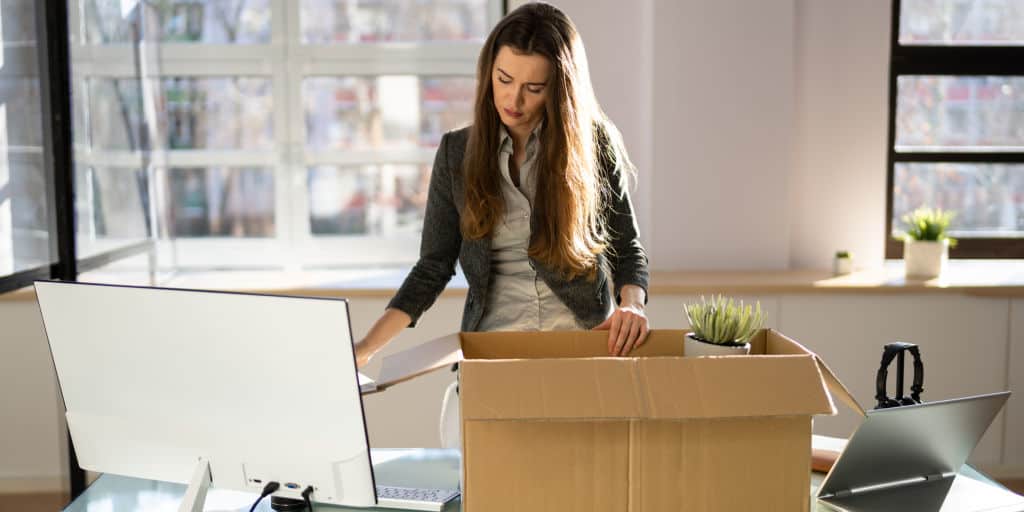 We've all had workdays when it's tempting to say "I quit!" and walk out the door. Yet, usually, it's better to think it through before making a sudden move.
First, dig deeper and figure out why you want to leave your employer.
Then, if you still want to quit, make a plan for what's next.
1. Why are you thinking about quitting your job?
If you wake up each day with that familiar sense of work dread, figure out the reason for your trepidation.
Be honest and uncover what, specifically, is causing your dissatisfaction.
Perhaps the pandemic sparked a re-ordering of your priorities, and you're re-evaluating what you want from your life, work, and employer.
It could be that you want a raise, a flexible schedule, better benefits, or more growth opportunities.
Or maybe you enjoy your work but are unhappy with your boss, work setting, or a specific incident.
After you get to the source of your dissatisfaction, ask yourself:
Is it something within your control?
Is it permanent or temporary?
Then, figure out what you can do about it.
Will leaving your current employer solve the problem?
Or can you improve your current job conditions to be more satisfied?
2. What would it take for you to stay?
If a colleague upsets you or you're experiencing job burnout, it could be a temporary problem. It's usually best to avoid knee-jerk reactions to potentially short-lived issues.
Instead, you might be able to work out a solution with your boss, coworkers, or your Employee Assistance Program (EAP).
But if it's an ongoing problem, decide what needs to change for you to be happier.
First, describe your ideal job and write down a list of things you want. Below are some considerations when formulating a job description:
Compensation
Benefits (health insurance, retirement, paid time off, etc.)
Flexible schedule
Independence
Then, from your list, determine what would need to change at your current job to make you stay.
Your ideal work conditions might be possible without changing jobs, especially if you've demonstrated quality work in the past.
Don't forget about the benefits.
If you leave your current employer, you leave behind the benefits. So, before you quit, consider how much value they add.
For example, a retirement account or child care assistance can provide a ton of value.
Some benefits may continue even if you quit. For instance, you can continue your group health insurance for up to 18 months through COBRA. (But you pay the entire premium out of pocket.)
Also, you don't lose your 401k or Health Savings Account (HSA) funds. Instead, 401k and 403b funds get transferred to a new employer or rolled over to an individual retirement account (IRA). And HSA funds are yours to keep.
3. Do you have a plan for after you quit? (e.g., what about money and health insurance?)
If you don't have another job lined up after you quit (and even if you do), you need a plan and a safety net.
What will you do?
It's helpful to research job openings in your field before you quit your job. Still, even if the job market is favorable, it could take longer than you expect.
Maybe you decide to get more job training between jobs.
For example, you could take the time to brush up on your skills, get a new certification, or take a class or two. That leads to the next question.
Do you have enough savings?
If you quit your job, savings are more important than ever since you have to rely on them to get by.
You'll want enough emergency savings to pay your bills, including health insurance. And if you plan to take an extended leave for training, make sure you have enough money to do so.
What about health insurance?
If your employer provides health insurance, you'll need coverage when you quit. Below are a few options to consider.
If you're married and your spouse has health insurance, find out if you can get on their health insurance plan.
Federal COBRA benefits let you continue your current group coverage for up to 18 months. But your employer won't continue to pay any of the premium, so you pay the entire cost (plus administrative fees).
Health care sharing ministries are alternatives to health insurance. But they're not health insurance. Instead, they are non-profit, religion-based memberships and monthly fees help cover members' medical costs.
4. What's your next step?
Quitting your job can be a tough decision. But if you've tried to make it work, and it doesn't, it might be time to move on.
Sometimes staying in a job that makes you miserable is worse than facing fears and moving on.
Leave your current job on good terms.
Leaving on good terms gives you more options.
For one, you're more likely to get good references for future work. And you never know, you might get offered a promotion or future job with your current employer.
Most companies require an official written letter of resignation. But, before you make it official, it's best to speak with your manager one-on-one. And give at least two weeks' notice before you quit.
Be kind and express gratitude in your verbal and written communication.
And prepare to answer questions about your plans—employers might offer you a raise to get you to stay.
Figure out your benefit decisions
Speak with your human resources department or manager before you leave the job.
Below are a few items to address.
Your 401(k) or 403(b). You can transfer it to your new employer's plan or roll it over into an IRA.
Health insurance. If you use COBRA benefits, you must set it up with HR. Remember, you're responsible for the entire premium.
Remaining paid time off (PTO). Some states require employers to reimburse you for unused PTO, vacation time, and sick time.
Health savings accounts. If you have an HSA, the funds in your account are yours to keep.*
*Do you have a flexible spending account (FSA)? You lose any money left in your account when you quit. Yet, there are sometimes exceptions if you opt for COBRA coverage.
Finding a new job
If you devised your ideal job description when deciding whether to stay or quit, use it to search for new jobs.
Also, determine if you need training or skills to get the job you want or if you're leaving your field altogether.
If jobs are plentiful in your field, negotiate what you want, like higher pay or a flexible schedule.
If you don't find the right job immediately, you might consider contacting a recruiter to help you.
Either way, be persistent, and don't give up!
Final thoughts
There's a lot to consider before leaving your current employer.
You might ask for what you want at your current job, get it, and be happy to stay. But other times, it's in your best interest to quit and move on.
Whatever your decision, the best thing to do is ask yourself some critical questions and make a plan to move forward!
Next: Should I Quit My Job to Freelance? [The Pros & Cons]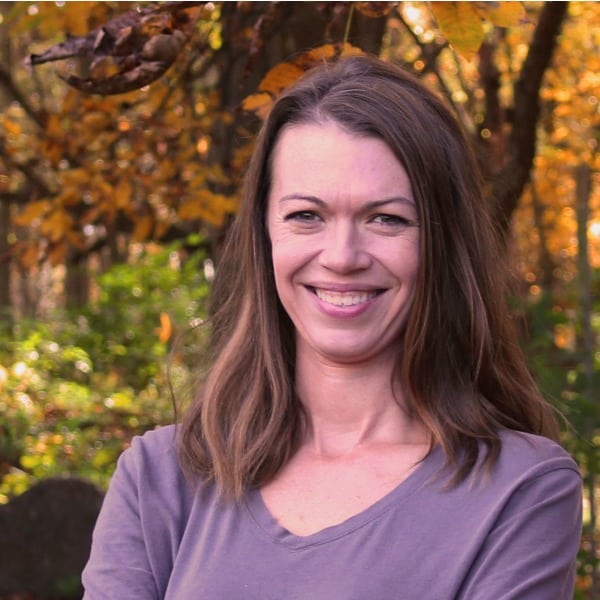 Article written by Amanda
Amanda is a team member of Women Who Money and the founder and blogger behind Why We Money. She enjoys writing about happiness, values, money, and real estate.