How to Manage Money After Job Loss
(This page may contain affiliate links and we may earn fees from qualifying purchases at no additional cost to you. See our Disclosure for more info.)
In some ways, it's our greatest fear. Losing a job means losing financial security, the ability to pay bills, maybe even your home.
Your job may currently feel stable and your career field always hiring. But a job loss can come without warning, seemingly out of nowhere.
It's always best to be financially prepared before a layoff.
And know how to manage your finances after a job loss.
Being laid off is certainly not the same as a severe illness or death. But losing a job can feel a bit like a death in the family, provoking the five stages of grief:
denial
anger
bargaining
depression
acceptance
Unfortunately, many people get stuck in Stage 1, denial, for far too long.
Refusing to admit to friends or extended family they've been laid off.
Refusing to change spending behavior.
Or refusing to make hard choices like selling a car or house to survive a job loss financially.
However, even something as devastating as a job loss can be less detrimental if you take some preventative measures and make a "worse case scenario" plan.
If you're never in that situation, you can count yourself fortunate. But you're prepared if a job layoff happens to you or your spouse or partner.
Know Your Bare-Bones Budget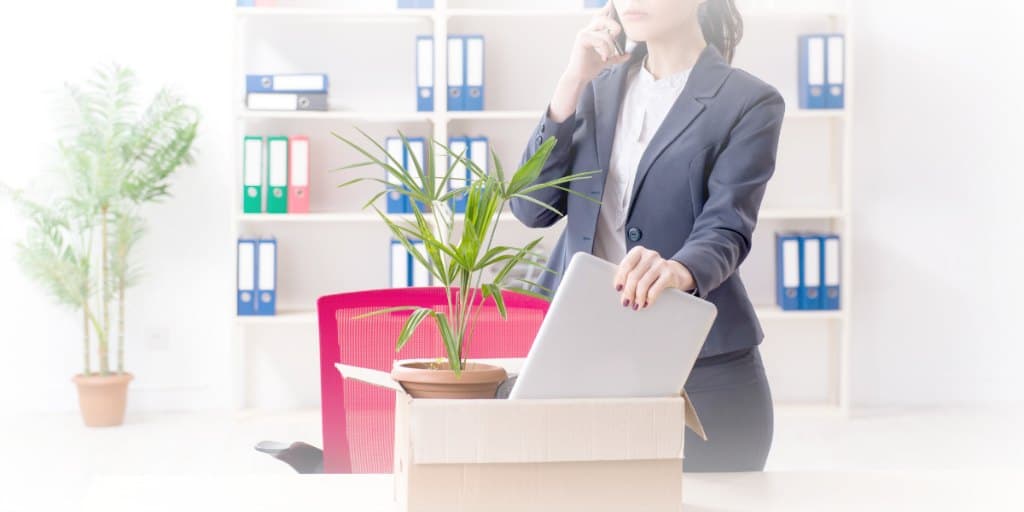 One of the most important times to know exactly what your expenses are is when you've just been laid off.
That way, you can formulate an educated plan for how long your savings will last and manage your money appropriately.
If you receive a severance package, you can calculate how long the money will last before needing new sources of income.
Should you not have a lot of savings or an emergency fund to use, you can calculate precisely how much you'll need to earn to keep your family afloat.
This is yet another reason why tracking your expenses is so important.
If you're in the habit of tracking what you spend, it will be that much easier to figure out a realistic bare-bones budget for your family.
Plan to cut as many discretionary expenses as you possibly can. Remember, your life has changed. The sooner you accept it, the better off you'll be financially.
If your budget includes sections for necessary and discretionary expenses, this task will be even easier.
Necessary Expenses
You'll need to make sure your barebones budget includes:
Mortgage or Rent
Without a doubt, apart from food, housing is the most critical payment you'll need to make to ensure keeping a roof over your family's head.
If you're renting and can get out of your lease, you may consider moving in with family members or finding a cheaper apartment.
But keep in mind you may have to pay hefty fees for ending a lease early. And there are always expenses related to moving.
If you own your own home, do everything you can to continue paying the mortgage.
If you think that might be difficult, plan to put your house on the market as soon as possible. It takes an average of three months for a house to sell.
Think twice before you start borrowing from the equity in your home too.
Using a HELOC to replace a paycheck adds another monthly payment that could be bigger than you realize.
Also, remember your home is the collateral if you can't pay back the line of credit.
Food
Budget enough or just slightly more than usual for groceries because you should ideally eat all of your meals at home.
One of the easiest ways to cut your spending is to eliminate all dining-out expenses until you find another job.
Plan your meals and make a goal to eat up all of the food in your house. Throwing away food is throwing away money you don't have to spare.
Utilities
Keep your utility bills as low as possible by using fans in the summer (and opening windows at night) or wearing sweaters and slippers in the winter.
Decide if there are any utilities you can cancel.
Debt Payments
If you're currently paying off debt, you'll need to drop back to making minimum payments.
While it's not an easy financial decision to let high-interest accumulate, your priorities are food and shelter, and you must pay those first.
You can get back to your debt repayment plan once you have another job. If you have car payments, you'll need to continue making those or downsize.
If you have two cars, and especially if you have two car payments, seriously consider selling one car. You can purchase another vehicle when you obtain a new job.
Keep Spending Low
Here are some additional tips for spending less during times of unemployment:
Insource EVERYTHING
Immediately cancel things like your cleaning or yard service, cable, and all other unnecessary expenses.
You'll have extra time on your hands to cut your grass and clean your own house.
You can also DIY maintenance and repairs and fix your own appliances (or live without them for a few months until you have a new job lined up).
Get the Kids on Board
While letting your kids know you or your partner has lost a job won't be easy, it's important not to hide money problems from your kids.
If your kids are small, you can give them the basic facts: "Dad isn't working at his company anymore and needs a new job. Until he finds one, we're going to do a good job saving all our extra money."
Older kids may need to be reassured you'll still be together as a family, but be honest if more significant changes are required, like putting your house on the market.
Kids are resilient, and they would much rather hear the truth about a hard situation and watch as you work through it than wonder why their parents are so stressed and upset.
Your kids may even surprise you, offering to give up beloved (and sometimes expensive) activities or after-school clubs to help with saving.
Remember, this is all temporary. You won't need to cut out extras forever.
Although it may take longer than you like to find another job, taking severe measures to ensure you can pay your bills while unemployed means that when you do secure employment again, you won't spend months digging yourself out of debt.
Have a Plan to Earn Some Income
It will be much easier to implement a side hustle if you've started before losing a job or being laid off.
Maybe you've dabbled in driving for Uber or Lyft and can take on more hours after your job loss.
Perhaps you've started an online Etsy business you could ramp up if you need more income.
Here are some other ideas you could implement to help bring cash in:
Consider a position in retail or food services with low barriers to entry
Look into teaching English online during the early morning hours
Cut neighbors' grass or become a dog walker with apps like Rover
Offer to tutor through services like Wyzant
Yes, it might feel humiliating to deliver pizzas after having a high-powered executive role, but if you need the money, it will allow you to pay the bills.
Earning some income will not only help you stretch your savings; it will provide you with a psychological boost of taking action to improve your situation.
If you currently have a side hustle, dedicate more hours to it to improve your earnings.
Write more freelance articles. Boost the hours you spend consulting. Clean out your house and have a big yard sale or sell your unwanted goods on Facebook Marketplace or eBay.
If you live near a temp agency, apply for jobs there. Even though you may only get a temporary position, it could lead to a full-time role. In the meantime, you'll be bringing in some income.
Make a Plan to Network
The time to let your friends and family know you or your partner has been laid off is right after it happens.
While you might still be in shock, people will latch on to your urgency and help you find leads if they see you're serious about finding new employment quickly.
It might feel embarrassing to admit you've lost your job but know that people understand.
It's very probable many people you know have been in the same position and are happy to help you find a new job.
When you reach out to friends and family, let them know, as factually as possible, what happened.
Explain what your previous role was and suggest potential industries or leads for your friends to look out for.
Former co-workers or connections from other companies or networking events are excellent sources for job leads.
Consider attaching a current resume to your email so your contacts have it at hand. That shows you're proactively managing your job search and ready to find your next role.
It's also beneficial to connect with a recruiting firm for assistance in your job hunt.
Headhunters can help you consider other types of jobs you might be qualified for. Or find you leads not available to the general public.
Manage Your Emotions
Prepare for inevitable feelings of depression, guilt, and perhaps even relief.
For many Americans, our jobs are inextricably tied to our identity and sense of self-worth. It can be tough to retain a sense of confidence and optimism when your job search lags.
If you were in a particularly difficult job situation or were expecting a layoff, you may instead feel a massive sense of relief. No longer are you living in limbo. These feelings are normal as well.
Getting a part-time job will get you out of the house and give you a renewed sense of purpose. At the same time, you'll need to dedicate part of your day to look for new jobs.
Setting up a schedule, even a loose one, will help you retain a sense of order and control.
If you wake up at a set time, shower and dress, and work on your job search for several hours each day, you'll be less likely to succumb to feelings of depression.
While being laid off or losing your job can feel like the end of the world, the truth is it happens to many employees at one time or another.
If you prepare for it by getting your finances in order, thinking about ways to earn income, and preparing to manage the process, it can be less devastating for you and your family than if you're not prepared at all.
Next: Before You Go Freelance Do These Things