Making Money Investing in a Duplex and Renting Half Out
(This page may contain affiliate links and we may earn fees from qualifying purchases at no additional cost to you. See our Disclosure for more info.)
Investing in real estate is a popular way for people to build wealth over time.
Commercial real estate may interest more seasoned investors. But those who are just starting usually invest in single-family rentals or smaller multi-family properties.
House 'hacking' has also grown in popularity for those who are new to real estate investing. Making money to help cover your expenses by renting out rooms in your house can make a lot of sense.
Buying a duplex and living in one half while renting the other half out to make money also works well for some.
Here we'll dive into the benefits and drawbacks of investing in a duplex and renting out half to help pay your mortgage or make money.
We'll also share some important questions you'll want to ask yourself before deciding if buying a duplex is the right move for you.
Benefits of Investing and Living In a Duplex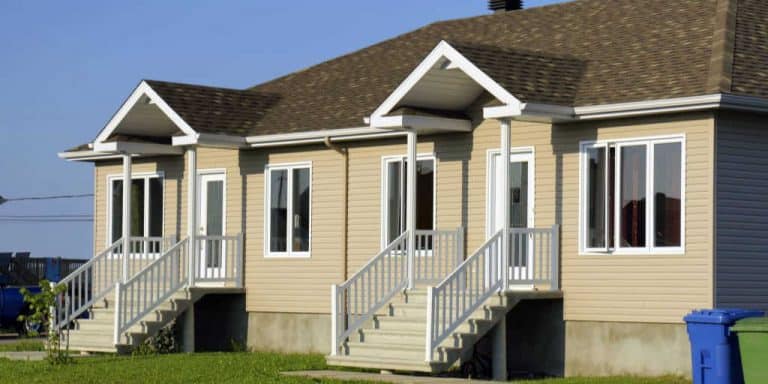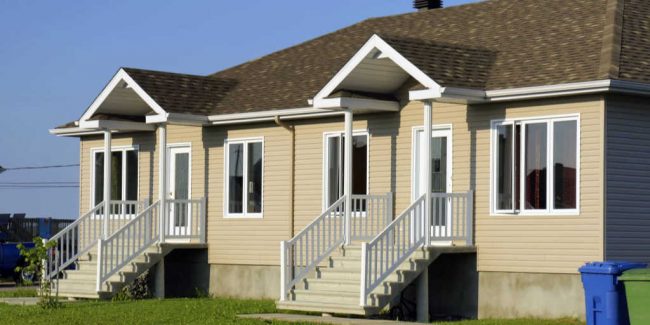 1. Make Money With Your Home.
You might hear that you can "live for free" when you live in a duplex and rent half of it out. But that all depends on your expenses – mortgage payments, taxes, repairs, and more.
When you have a tenant paying you hundreds (or thousands) of dollars a month in rent, you'll be able to use the money to help cover your costs.
Hopefully, your cash flow will also increase as you raise rents over time, and your mortgage remains at a fixed rate.
Another money-making option?
Buy a different house for yourself in the future (make sure to check your loan requirements) and rent out both sides of the duplex.
2. Learn About Landlording.
If you've never rented out a property, living in a duplex and renting out half allows you to get started in the business without having to travel to check on your rental. Or do the necessary repairs.
By living on-site, you'll be able to check in with your tenants and be proactive in terms of taking care of anything they need.
If your tenants feel like they have a responsive landlord, they may choose to renew their lease for several years.
That can save you time and money.
You won't have to advertise, show the unit, or deal with vacancies. You'll likely see higher profits when tenants renew versus having to find new tenants each year.
3. Tax Advantages.
You're considered an owner-occupant when you buy a duplex to live in and lease the other half.
You'll receive the same deductions as other homeowners for your half of the property.
But you'll report the income and expenses for your tenant's side on Schedule E of your taxes. (See this publication by the IRS – Tips on Rental Real Estate Income, Deductions, and Record-Keeping.)
You may be able to write off half of all dual-use expenses such as garbage collection, lawn, and snow services.
Check with a tax professional to learn more about eligible deductions and how to qualify for some tax breaks when you sell an owner-occupied duplex.
4. Qualify for a Larger Mortgage.
Depending on the type of mortgage you're applying for, you may be able to use the rental income of the occupied property to help qualify for a larger loan.
While it may be a risky move to take on a bigger loan than you could otherwise afford, it might make sense, depending on the property you want to purchase and your financial circumstances.
Drawbacks of Tenants Living In Half Your House
1. Sharing Walls and Spaces.
When you live in the same duplex as your tenants, you'll probably be sharing some walls and common areas with them.
This can create privacy and noise concerns – especially if you haven't lived in a multi-family setting before.
Even if you have plenty of separation from your renters, they are now your closest neighbors.
While that might work out great, it can also be very stressful for some people – even with wonderful tenants.
Carefully consider how you'll handle the stress of new neighbors who might be far from pleasant.
2. Increased Expenses.
If you used rental income to qualify for a bigger mortgage, you'll be making larger loan payments. Buying a more expensive property comes with higher taxes too.
With a rental unit, you may have increased utility costs. You'll also have to budget for the replacement of major household items such as appliances, water heaters, furnaces, or air conditioners.
A larger house will have a more expensive roof. When it comes to repairs, you'll have extra toilets and sinks to maintain as well.
While the rent you collect will help offset a lot of your expenses, you have to make sure you're saving plenty of money, so you don't take on debt to cover costs.
3. More Work, Responsibility, and Liability.
As a landlord, you'll need to manage your rental unit. This means being available to address problems that arise or making arrangements for someone to handle issues.
You'll need to spend time learning about the legal aspects of renting your property. You'll need a lease that follows landlord-tenant laws in your state.
You also can't discriminate against someone when you advertise or choose a tenant. As a new landlord, you may want to consider hiring a property manager to place a tenant for you.
Purchasing umbrella insurance will also help protect you from a renter (or visitor) suing you for damages if they get injured on your property.
4. Damage and Evictions.
When it's your home too, it can be hard to separate emotions from your business of landlording.
There's always a chance your tenant (even if you know them well) may damage your property or quit paying the rent.
How are you at handling confrontation?
Are you ready to evict a tenant who has broken a lease?
Or stopped paying rent without discussing their situation with you?
Some landlords never have to deal with "bad" tenants (or tenants in bad situations) – but it happens more often than you might think.
Before Buying a Duplex, Ask Yourself These 5 Questions
1. Can you live in the same property as your tenants?
While you won't be sharing living space with roommates, your tenants may be sharing your driveway, backyard, or other common areas of your home.
Blessed with an easy-going personality or spend a lot of time away from home?
Then this might not be a concern for you. But someone who craves privacy and order could struggle.
If you have a spouse or partner, make sure they're genuinely on board with the idea too, and not just agreeing because of the money you can make.
2. Does your current living situation work well for you?
If your current living arrangement fits your lifestyle, and you can afford to stay there, does it make sense to move and take on all of the extra responsibilities of being a landlord?
Should the dollar signs you are seeing from having a renter be clouding your judgment, consider other ways to make the same amount of money each month.
Can you work overtime? What about working a side hustle to make some extra cash?
If you've always wanted to start a small business, it might make sense to try that before deciding to give up your current place to live in a duplex.
3. Are you prepared to deal with tenant issues?
Issues such as clogged toilets, noise, and clutter on the property you live in can be a significant nuisance.
You may know people who own rental real estate who tell you it's a breeze. And if you have amazing tenants who are clean, quiet, and pay on time each month – that's probably true!
But there are plenty of landlords who could tell you nightmare stories about their rental properties too.
Check out this great resource that shares information you need to know before you decide to become a landlord.
4. Do you have the time, money, and DIY skills to fix problems at your property?
Or will you need to find contractors and hire out work on your property?
If you're able to take on problems that come up in your duplex, it may save you a lot of money.
But DIY'ing home repairs isn't always an option if you lack time, tools, or the knowledge to do the work safely and promptly.
It's really important to consider the age and condition of duplexes you want to buy and always make the purchase contingent on the results of a home inspection.
The inspection report provides you with valuable information about where you may need to spend money.
Still, you should also be prepared for higher maintenance costs on older homes or homes with deferred maintenance issues.
5. Are you planning on renting the other half of the house to family or friends?
If you're going into the purchase of a duplex thinking you have family or friends who'll rent the other half out, you may want to rethink your plan
While it may be an excellent move for some people, there's a reason for the warning about mixing business and pleasure.
If you are buying a duplex to make money, what happens if your family member or friend can't come up with the rent?
You'll undoubtedly be testing your relationship if you end up losing money or having to evict someone you know well.
Final Thoughts on Investing in a Duplex and Rent Half Out
Whether you're considering buying your first home or starting to invest in real estate for a profit, a duplex may be a good option for you.
Living in one unit and leasing the other half can be a great way to make money to pay your expenses.
Yet, if you (or your partner) have concerns about becoming a landlord or living next door to your tenants, buying a duplex may not be a good fit for your lifestyle.
Carefully consider the pros and cons of this type of living arrangement and weigh the potential financial gains with how living in a duplex may impact the quality of your life, before you finalize any deals.
Next: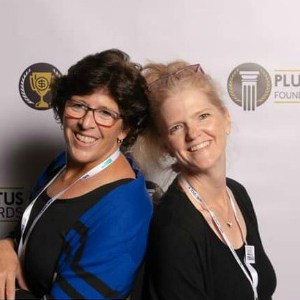 Amy and Vicki are the coauthors of Estate Planning 101, From Avoiding Probate and Assessing Assets to Establishing Directives and Understanding Taxes, Your Essential Primer to Estate Planning, from Adams Media.